posted on: August 21, 2019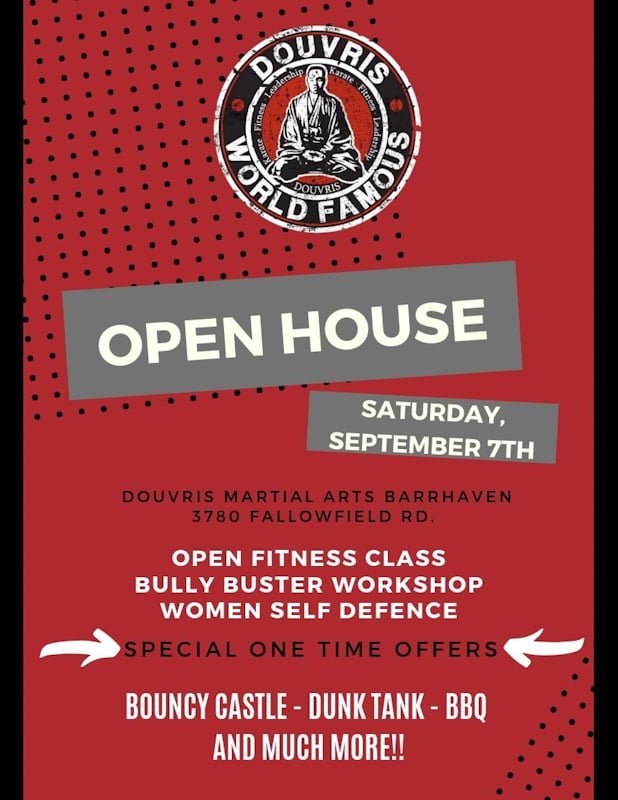 HUGE ANNOUNCEMENT!!!

We would like personally invite all of our members, friends, family and residents of Barrhaven to join us at our first ever Douvris Barrhaven Open House held September 7th!
We are beyond excited to host this wonderful event. The open house will be packed with different activities that are sure to bring joy and value to all participants!
We will be hosting multiple free classes and workshops through out the day such as an Open TBT Fitness Class, Two Bully Buster Self Defence Workshops and a Women's only Self Defence Class!
Not only will we be hosting a variety of free classes but we are PUMPED to announce that we will have an Epic Bounce Castle, Dunk Tank (time to get some payback on your Sensei's!) BBQ and much more!
Interested in having a chance to Dunk your Sensei's!? Every friend you bring gets you a ticket that enters you in the draw to Dunk a Sensei of your choice!
Last but not least we are excited to announce that all September long we will be offering FREE introductory Classes for all friends and family that are referred to us by Douvris members. That's not it! Every friend you bring to try out a class enters you into our Grand Prize Draw at the end of September!!
We are excited to host all of you wonderful people and can't wait until the 7th!
Check out the SPECIAL schedule below (all regular classes are cancelled)!
9:30 – 10:15 AM: Open Fitness Class (make sure you stay for refreshment after)
11:00-11:30 AM: Bully Buster Workshop 1
12:00-12:30 PM: Bully Buster Workshop 2
1:00-1:30 PM: Women Self Defence Workshop
Make sure you sign up yourself and your friends asap to secure your spots! Contact us to sign up.