About Douvris Martial Arts
Welcome to Douvris Barrhaven, we are passionate about bringing the benefits of martial arts to Barrhaven, including improved focus, confidence, self-respect, fitness and more. Douvris programs, methods and standards have been designed, tested and proven over 30 years. Our focus is on helping our members build confidence, strength along with a positive sense of physical and mental well being.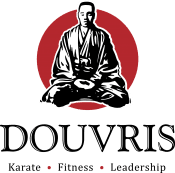 We have karate programs for all ages and fitness levels.
Our karate tykes program guides kids ages 4-6 through basic karate techniques and provides the foundation for important life skills.
Our Kids program keeps children aged 7 to 12 active and helps balance & coordination, concentration, and self-discipline.
Our Youth program is designed for teens 13-18 years of age. It is a complete approach to training in the martial arts.
Join our Adult program to improve fitness levels, learn self-defense techniques, increase confidence, and feel empowered.