Senseis Martina & Sebastian and their team are members of the Barrhaven community and leaders in karate.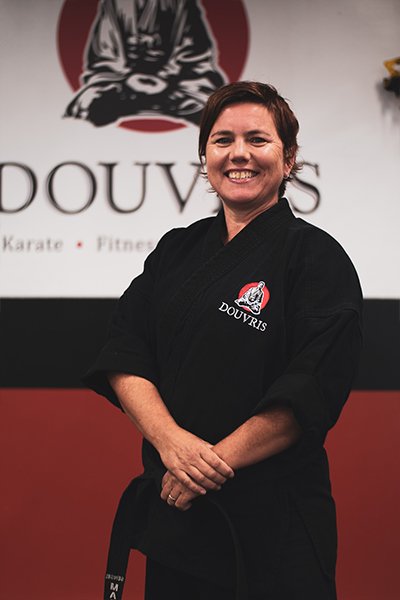 Sensei Martina began training with Douvris Martial Arts in 2010, alongside sons Sebastian and Niko (who she is pictured with on the left). She received her black belt in 2015 and began competing shortly after. She earned her 2nd degree black belt in 2018. For many years she was the Douvris Competition Team manager, which competes in tournaments all over the world. After both Seb and Niko won multiple gold medals representing Canada, Sensei Martina was inspired to earn her spot on the National team. She brought home a gold and 2 bronze medals for Canada at the 2015 WKC World Championship in Orlando,  3 silver medals at the 2016 WKC World Championship in Dublin and a Gold medal at the Canadian National Championship 2017.
Sensei Martina is a certified Canfitpro Canada Personal Training Specialist and NCCP Level-2 Certified Coach
When Martina is not training or competing, she works as a residential counsellor for individuals with disabilities.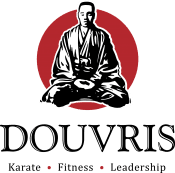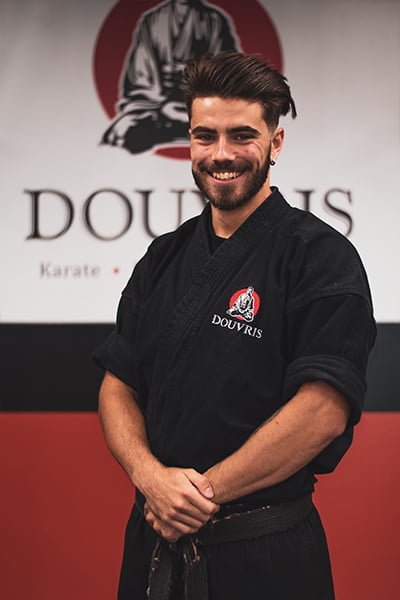 Sensei Sebastian has always had a passion for helping others achieve their goals and aspirations in martial arts and physical health. He has been teaching for over ten years and has worked his way up the ranks to head instructor of the highly successful Douvris Barrhaven Dojo. Whether it be helping young karate tykes, teens and adults looking to learn something new, competitive athletes or people with special needs Sensei Sebastian can do it all.
Sensei Sebastian is a certified Can Fit Pro Canada Personal training specialist and Douvris martial arts head fitness trainer. He has taken a huge passion in fitness and physical health over the last couple years and has dedicated the majority of his free time into learning more and growing his knowledge in fitness training. He has worked with competitive sports teams, fitness beginners and fitness enthusiasts. He offers personal training sessions, groups training sessions, competitive and elite training for athletes and he is the head trainer for the Douvris Barrhaven fitness kickboxing program.
For free time, Sensei Sebastian enjoys riding his motorcycle and travelling.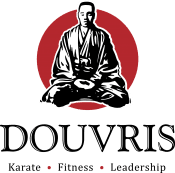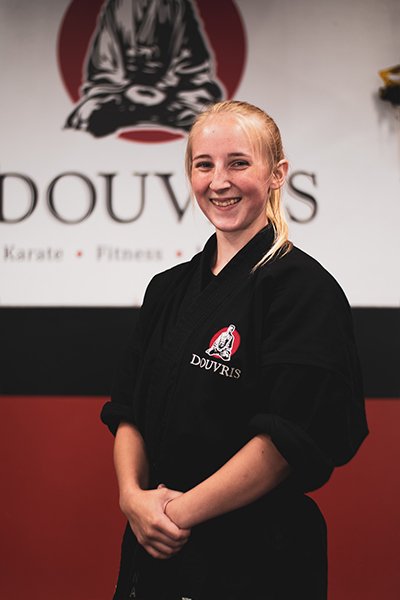 Sensei Megan started learning karate in 2012, later that year she started competing. Sensei Megan has been competing internationally since 2013 and finished consistently on the podium. She represented Team Canada on the WKC circuit from 2013-2017, represented team Ontario on the WKF circuit for the past two years. She has also competed on other circuits, such as NASKA, NMAC, USKSF, and more. She has amassed over a hundred top 3 placings, most notably in WKC with: 19 Gold, 13 Silver, & 10 Bronze. 
Sensei Megan achieved black belt status in 2016 and acquired her Nidan (2nd degree) in 2018. She has trained in many different styles of martial arts; karate, kempo, kickboxing, kung fu, and wushu. She has also trained in various different weapons, however, she prefers the bo staff, both the traditional and the sport martial style. Sensei Megan specializes in forms and weapons.
Sensei Megan recently acquired her NCCP Level 2: Karate Competition Introduction Certified Coach. She is studying at Carleton University for an Honours Bachelor in Developmental Psychology with a minor in disability studies.
Outside of karate, Sensei Megan enjoys horseback riding, which she has competed in, photography, and reading. Previously she competed internationally in soccer and performed across Ottawa with a dance troupe.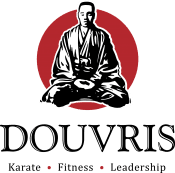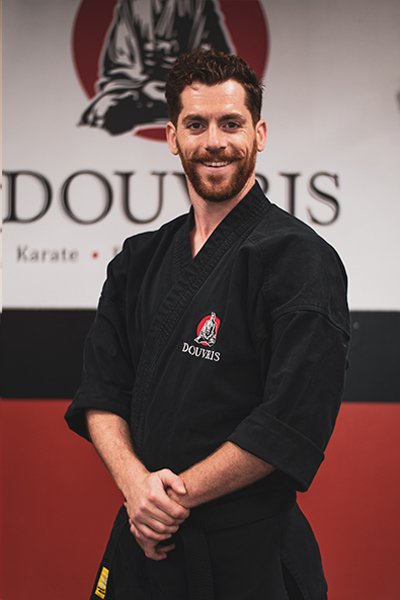 Sensei Cody Diesbourg is a fourth-degree black belt and multi-time world champion in fighting, Kata, and weapons. Sensei Cody has extensive experience in teaching group lessons, private instruction, seminars, instructor colleges, and day camps.
Sensei Cody began his Martial Arts training in 1992, began competing in 1995, and has been teaching since 1997. His Martial Arts awards are numerous. He competed in the North American Sport Karate Association for seven years, consistently placing top three in all of his divisions. He has a total of 25 years of international competition experience with over 40 medals across all disciplines.
Sensei Cody continues to spread his knowledge and share his passion with students from all across the globe. He's currently a top instructor at the Douvris Barrhaven, Bank St and OAC locations. Previously, Sensei Cody has taught across Canada and has run successful schools in Alberta and Southern Ontario. He is also the acting WKC Alberta Director and commissionaire. Sensei Cody is best known for his energy and infectious enthusiasm he brings to every class! With his exceptional competitive and teaching resume, we are fortunate to have him!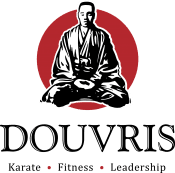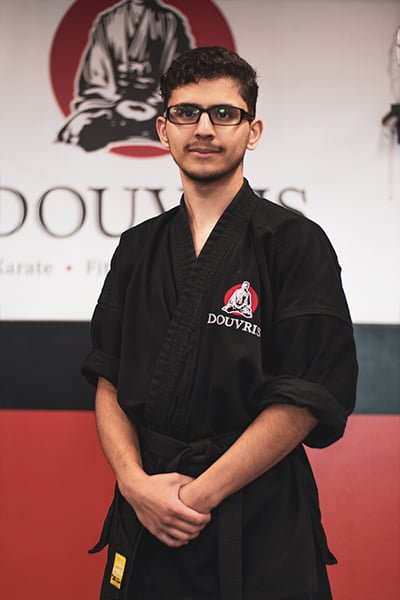 Sensei Mo began his Martial Arts journey at the age of 4. Since a young age, Martial Arts has always interested Sensei Mo. After discovering many different styles and disciplines, he chose Karate as his main focus and never looked back. Sensei Mo joined the Douvris Barrhaven Team when he was 13 years old. After a few more years of vigorous training and adapting to the Douvris Curriculum, he earned his full black belt. Going forward, Sensei Mo set his ambitions high and started competing in the Art he loved. His competitive career is still fresh and young but looks very promising. After only a year of competitive training, Sensei Mo has competed alongside some of the best in Canada and also was selected to represent Team Ontario at the 2018 Karate National Championship. Currently Sensei Mo is an assistant instructor and is beloved by all students. 
QUOTE: "You cannot train through words, you must learn through your body" Gichin Funakoshi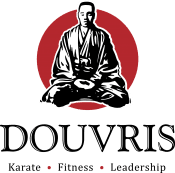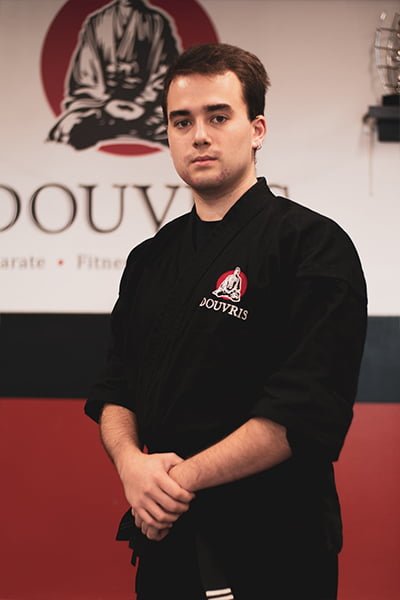 Sensei Tim Noah is a 2nd-degree black belt. He started at Greco Martial Arts, at the age of 7 where he was taught by Tony Greco. 6 years later, Tim got his black belt and has been teaching ever since. Katas and Self Defense have always sparked an interest in Tim, breaking katas down to what each move is doing and thinking about what can be done in a majority of situations. 
Sensei Tim has always tried to pass knowledge on to any student willing to learn. By passing on knowledge on, we also learn to see techniques in a different light. Tim is excited to start into the competition scene.
Outside of karate, Sensei Tim enjoys snowboarding, building computers, and socializing with friends. 
Outside of the dojo, Tim also volunteers his time with Kids Kicking Cancer, where he has become a part of the family to help out those who wish to learn Karate to help with pain and overcoming fear.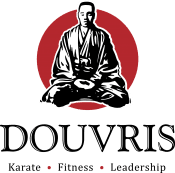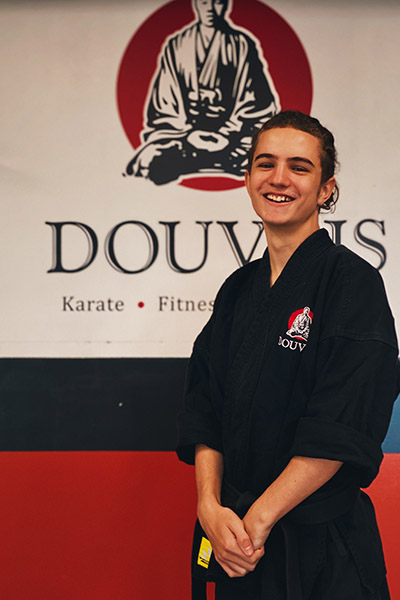 Meet Sensei Niko! With just shy of 12 years of Karate Training, Sensei Niko has developed into a fantastic Sensei, competitor and leader here at Douvris Barrhaven. He has spent most of his Martial Arts journey training hard and trying to be the best competitor he can. He is driven, passionate and determined. His work ethic and ability directly translate into his teaching. Sensei Niko is passionate about helping others achieve their Martial Arts goals and loves seeing kids happy after their Karate class!
Check out some of his most impressive competitive accomplishments!
3x World Karate Champion in Point Sparring
Multiple WKC Medalist at WKC World Karate Championships in Point sparring, Light contact, Traditional Forms and Creative Forms
Member of WKC Canadian National Team from 2012-2017
Multiple WKC Canadian National Champion in Point sparring, Light contact, Traditional Forms and Creative Forms
Member of Team Canada (Karate Canada) 2018
Bronze medalist in Kumite at Karate Canada Nationals 2018
Qualified for WKF Junior PANAMS 2018 in Brazil
Karate Canada Provincial / Ontario Champion in Kumite
Attended WKC PANAMS 2020 in Mexico - Silver and Bronze Medalist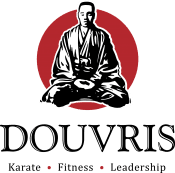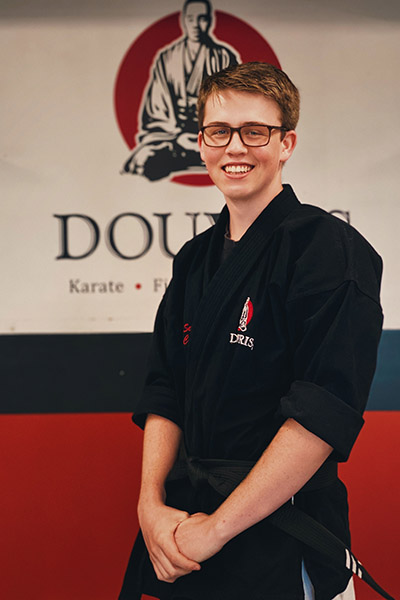 Sensei Calvin began Karate at the age of 4. He is now a third degree black belt who has been competing internationally since the age of 8. He has proudly represented Canada on the world stage in numerous sparring events for 7 years and he is a world champion in light contact sparring. A dedicated and enthusiastic competitor, Sensei Calvin found his true passion in teaching. He truly enjoys working with his students, and inspiring them to be the best they can be. His patience and good humour pair well with his high standards for technical knowledge and desire to learn. Outside of karate, Calvin is a Computer Science student at Carleton University, with a specialization in Information Security. He loves to travel and learn about other cultures. He also loves to eat and make funny jokes. He has big feet. His nickname is McRib/McSlackwrap/Bambi/Thumbs/Cupcake/Calbino The Albino Rhino/Big Foote. He takes his coffee any way you want to bring it to him. He likes honey mustard and dislikes his sister Bronwyn.